Come to Grips with remote task performance
Grips is a mature product with a long history of field service in the most demanding of applications. Since its introduction in 1982 hundreds of Grips manipulator systems have been installed worldwide to complete tasks in the deep ocean, and in nuclear, aerospace, electric utility, and military applications. Todays Grips system incorporates the latest in Kraft control system technology.
Undersea or on dry land, when ease of operation, and responsiveness to operator command are important, Grips is the performance leader.
Grips is a 7-function, hydraulic manipulator for use on both manned and remotely operated vehicles. Design features which make Grips a good choice for many applications include a four bar linkage design, which allows most of the arm's weight to be located around its base, and the use of zero leakage rack & pinion actuators which allow Grips to be configured for either base up or base down mounting.
Intuitive master/slave control allows even an inexperienced operator to perform work tasks with human like motion and speed. Force feedback dramatically improves operator awareness and allows the operator to perform tasks more quickly and perform tasks of much greater complexity. In addition to improved telepresence, the compliant nature of a force feedback system greatly reduces the risk of accidental damage to both the work site and the manipulator arm.
Kraft's unique method of controlling the gripper allows the operator to proportionally vary the rate of jaw closure, and the amount of grip force.
Grips is capable of completing a wide variety of complex tasks in unstructured environments.
McDonnell Douglas Space Systems neutral buoyancy tank. By simulating the weightless conditions found in space, engineers are able to evaluate assembly techniques where astronauts and robotic arms would work together.
Aerobraking is considered to be critical technology for cargo-carrying and human spacecraft bound for the planet Mars.
Meeting The Challenge
Grips force feedback manipulator arms are used to perform a wide variety of tasks in undersea and terrestrial environments. In applications where superb arm dynamics and controllability are paramount Grips delivers. When work must be completed in a timely manner, and with little risk of damage to the work site, the advantage of having force feedback is significant.
Grips can be operated base up, as shown, or mounted in a base down configuration. The highly intuitive nature of the Grips system allows the operator to easily control two manipulator arms at the same time. Force feedback makes it possible for two manipulator arms to simultaneously handle and manipulate a shared object, as if you were handling the object with your own two arms.
Click to enlarge
Grips requires only one electrical connection and a pressure & return hydraulic connection. All valves are packaged as an integral part of the manipulator arm, eliminating the cumbersome hydraulic lines that would be necessary with a remote valve package. A square, four-bolt flange makes mounting the arm simple.
Grips manipulator arms are used in numerous programs involving the application of manipulator technology for power line maintenance. This telerobotic "bucket truck" manufactured by Aichi Corporation in Japan, allows an operator to perform installation, repair, and maintenance tasks on energized power lines using the two insulated force feedback Grips arms. A single operator can control both manipulators, as well as all boom functions, while comfortably seated in the weather proof cabin.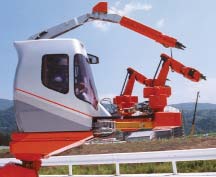 Innovation in Control Technology
KMC 770 Advanced Operating System
The KMC 770 control system offers many standard features which enhance system performance and ease of operation. These features include:
One button indexing - the ability to offset master position relative to the manipulator for operator comfort.
Power alignment - allows the operator to realign the master with the manipulator after indexing. When initiated, the master controller will move into alignment with the manipulator under its own power.
Joint lock - used to selectively lock one or more axes of the manipulator so that motion at the master has no effect on the locked axis.
Joint scaling - the ability to alter the ratio of master arm movement to manipulator arm movement. Scaling can be established for each joint individually.
Joint limits - the ability to establish individual joint motion limits to prevent arm impact with peripheral equipment.
Proportional control of grip force - greatly enhances manipulator performance and is far superior to conventional rate or position control.
Auto stow/deploy - allows the operator to automatically stow or deploy the manipulator using a previously programmed routine.
Robotic operation - provides the ability to teach the manipulator a routine or sequence and permanently save it for execution at a later time.
System diagnostics - provides comprehensive tools for evaluating and troubleshooting the system.
As the vital link between the remote manipulator and the human operator, the Kraft force feedback mini-master® allows the operator to control complex manipulator motions in a comfortable and intuitive manner. Electric actuators on the individual joints of the master respond to the forces acting upon the manipulator arm, providing force feedback to the operator. Conveniently located switches on the master provide the operator with direct access to core manipulator functions for faster arm operation. The mini-master® is designed for comfortable left-hand or right-hand operation.
In its standard configuration the mini-master® is mounted to a compact, portable, operator control unit that can be placed on nearly any surface for operation. A color liquid crystal display allows the operator to view system information and menus. Pushbutton keys surrounding the display allow the operator to select various operating options.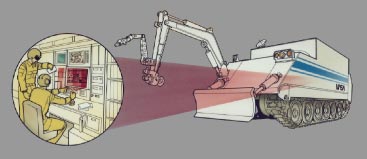 An experimental NASA HazMat vehicle equipped with a Grips manipulator arm to assist emergency personnel while responding to a chemical, biological or radiological threat.